Below I outline my experiences installing Windows 10 Pro without a license license key and any missing features.
So I've jumped on the hype train and decided to dive into Windows 10 without ever installing Windows 8 or 8.1. I skipped Windows 8 entirely without regret, as I found through limited usage, that the Metro screen is cumbersome and slow. I've found that the newest Windows 10 operating system has lots of new functionality seemingly absent from Windows 8 (without tweaking). Windows 10 seems to have all that is missing from Windows 8 and 8.1. Windows 10 is more fluid, accessible, dynamic and useful. In short, try Windows 10. It can't hurt to do a full backup, install Windows 10, try the OS, and then either buy the new OS ($199 ugh), or restore your backup image. Windows 10 is very usable even without activation. I can't find anything anywhere that locks down after any kind of "Pre-activation" period expires, if there is such a thing. Personalized features and some functionality is missing, but I'm able to write this post here, install applications and go online without incident.
As of now, the Windows 10 ISO's and licenses are not available in the Volume Licensing Service Center VLSC (found here). From what I've read this won't be happening "until the Fall". Because of this and wanting to continue testing, I used the downloaded retail version of Windows 10 Pro. On my existing Windows 7 laptop, I downloaded the Windows 10 "media creation tool" from the Windows 10 Software Download website. Using a PNY Attache 8GB USB Drive Key, I downloaded the Windows 10 Pro 64 version (only) and the utility graciously built me a USB boot drive on-the-fly. This is much nicer than downloading the ISO, then finding a "USB Boot Drive Utility", then formatting your drive, then creating the boot-able key. I tried on two separate occasions to "upgrade" existing Window 8 and Windows 7 Ultimate editions unsuccessfully. As usual, the best way to install a new OS is to backup an image of your entire hard drive, then use the bootable USB Windows 10 key to do a clean install. Your computer's BIOS probably has to at least be capable of booting to a USB drive, so check your BIOS settings to see if that's an option.
My first successful install of Windows 10 took place on an Acer Aspire 4820TG notebook/laptop that has an Intel SSD hard drive and an AMD Mobility Radeon HD 5000 series video card. The "upgrade" from my copy of Windows 7 Ultimate failed. Instead I first backed up my entire hard drive to an image on an external drive using Acronis, then downloaded the Windows 10 utility and created a USB drive. I told the installer to do a "Custom: Install Windows Only" and deleted my old partitions.  Did the Windows 10 installer ask for an Activation Key or a License key? Yes. I don't have a valid Windows 7 or a Windows 8 or 8.1 key so I went ahead anyway by clicking the "Do this later" link.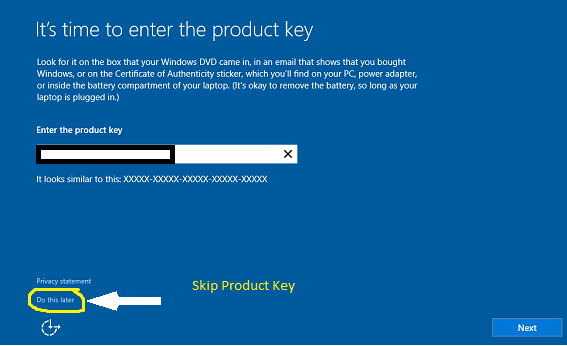 This allows you to proceed through the installation of Windows 10, and gets you to a working Windows10 desktop that leaves a watermark in the lower right-hand corner of every desktop.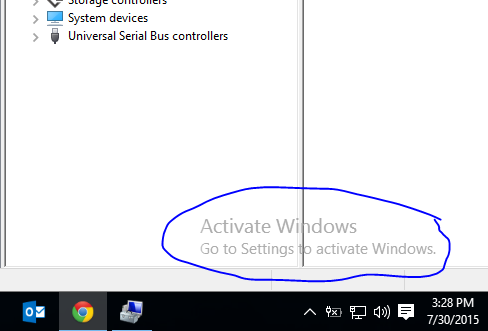 One neat feature I found during setup was the ability to join the computer to an Azure Domain in addition to a traditional Domain. You can also do this again later in Settings -> About -> Join Azure AD.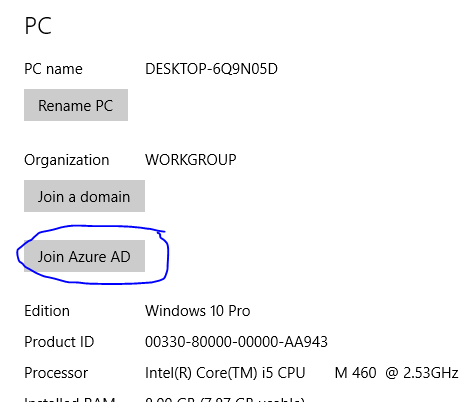 The Activate Windows dialog also prevents you from customizing your personal settings ( Start "Window" -> Settings -> 'Personalization'). Things like your Background, Colors, Lock Screen, Themes and Start settings are locked down with the message: You need to activate windows before you can personalize your PC. Advanced Sign-in options such as Windows Hello (facial recognition) are also missing from the un-activated version.
Here is a list of features missing from Windows 10 Pro that has not been activated:
Ability to have a clean Desktop –  an "Activate Windows" watermark is placed on the bottom right-hand corner of the desktop and is present even on top of browsers, documents, etc.
You will be unable to change your desktop background. The default background is a blue Window with haze. You can see a sample of the background in the right-hand side of the featured image of this article.
You cannot change anything in the "Settings -> Personalization" section (Background / Colors / Theme.)
You can't change the User Image from within Windows 10. Windows 10 will grab the same image you use for your Live/Hotmail account.
Facial Recognition / Biometric unlocking of your computer.
XBox "Windows Key + G" Game Bar video recording and capture of your screen.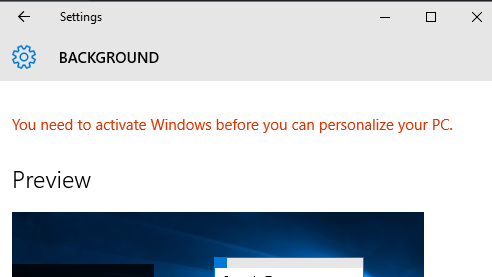 I was happy to see that all of my Devices in the Device Manager were installed correctly on the first boot – no need to go searching for Drivers… This includes my Qualcom Atheros AR8151 gigabit ethernet adapter, the Broadcom 802.11n Wifi card, The AMD/Realtek HD Audio Device, and my AMD Mobility Radeon HD 5000 series video card. All in all the laptop performs well and Windows 10 is very quick with snappy performance. I'll try testing a few games later as well.
All devices found! – Sweet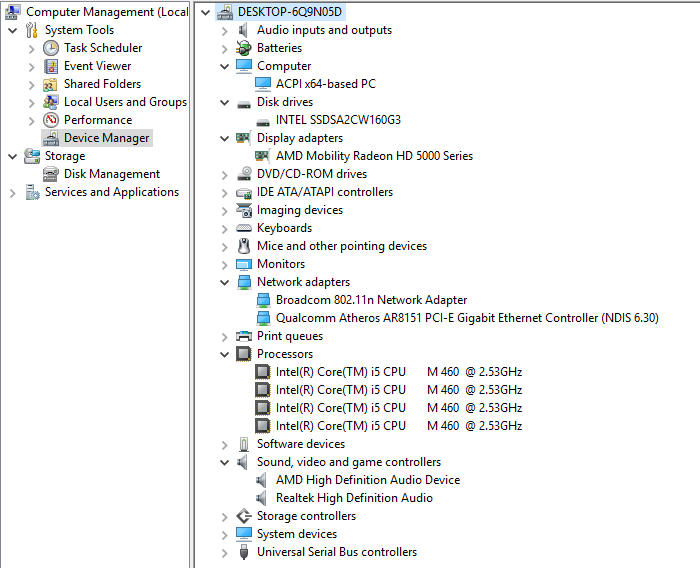 Even without activating windows, you're still able to connect your hotmail/Live acccount to Windows 10 and it will automatically mount your OneDrive / SkyDrive to your Windows Explorer menu:

Another thing to note is that Windows 10 likes you to create a PIN for logging into your Microsoft Account and your desktop. I used a 4 character PIN at first which was perfectly fine. I later had to change the PIN to an 8 character PIN once I installed Outlook 2013 and complied with my company's security policies. Connecting the Windows 10 Mail application to my company's Exchange, Hotmail, and Gmail accounts was a breeze and working with the app is more intuitive and useful than Windows 8's Mail app.
I'm happy to say that Windows 10 seems to be the upgrade equivalent of Windows XP to Windows 7 (I'm big fan of Windows 7). The Windows 7 to Windows 10 switch is a jump worth taking.
I also installed and activated Windows 10 on an HP Elitebook 840 laptop. Initially the Windows 10 installation failed to find a valid key after I had already installed a Windows 8 Enterprise Volume License on the notebook. I had previously used my company's Windows 8 installer ISO and license from the VLSC. I wanted to use that volume license to activate the Windows 10 Pro retail version just released, but no such luck. Even after downloading ProduKey and trying the Volume License Key and the HP 840 BIOS License Key, the Windows 10 installer would not accept either of these licenses for activation.
In order to get Windows 10 Pro installed on the HP Elitebook, I had to use the original Windows 8.1 Pro Operating System DVD's that came with the laptop. I installed most everything from the 2 DVD's onto the laptop (Operating System DVD and Application and Driver Recovery DVD). When I was finished installing Windows 8.1 Pro and installed the hardware drivers from the Drivers DVD, I took the extra precaution of installing missing updates for Windows 8.1 Pro from Windows Update. Finally, I went back to the Windows 10 Software Download website , and ran the upgrade. This time the installer didn't even ask for a License Key and proceeded through the upgrade successfully.
On the Elitebook, I gave Windows 10 a test drive and one of the first things I wanted to try was creating videos with the xbox game bar screen capture widget. Although the screen capture does work, it doesn't really fit my needs for creating video tutorials. It only grabs an active window and doesn't capture your entire monitor. Luckily I happened across a reddit post that described the use of OBS – Open Broadcaster Software in it's ability to record gaming sessions. In my opinion it's the best free screen capture software for video. For normal picture/image screenshots I'd have to go with GreenShot. With OBS I was able to make my first tutorial – about how to use OBS! You can find it here:
So I am now going to be posting a lot more video tutorials for Windows 10 and network administration in general. I wanted to make one of my kids a user account on Windows 10 and found the setup account wizard kind of forces you to create an email account during the account creation process. I don't want my kids to have an email address just yet so I made a short video on how to create a child/kid user account on Windows 10 the old fashioned way. After I made the video I realized it's easier to get to the Computer Management interface rather than clicking Start Menu -> File Explorer -> Right-Click on "This PC" -> Manage. Instead just right-click on the Start Menu and click Computer Management (Screenshot below):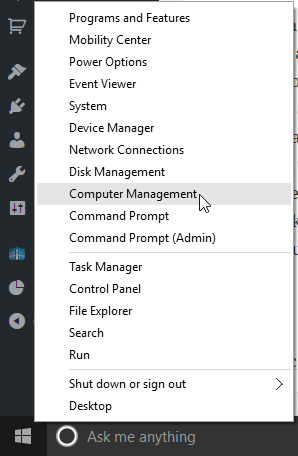 So when you create a new user account for a kid I'm pretty sure the following tutorial will give you the right direction for doing so without setting up a new email address:
Leave a comment below if you run into any caveats, issues, missing features, or roadblocks besides those I mentioned above, when trying to use an un-activated / deactivated / non-activated version of Windows 10 Pro.